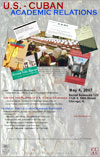 "U.S.-Cuban Academic Relations"
May 4, 2007
U.S. and Cuban scholars involved in academic, scientific, and cultural research face significant difficulties in maintaining open and thorough dialogue with each other due to restrictions governing travel between the two countries. Such exchanges, however, hold the potential for improved interpretations of our economic, cultural, and historical ties, and ultimately for improved political relations. The aim of this conference was to convene scholars, practitioners, and members of civil society in order to foster a broad, interdisciplinary discussion on the current conditions of U.S.-Cuban academic exchange, the challenges that new governmental restrictions pose to academic research agendas, and the manners by which scholars may engage in projects related to the history, economics, public policy, and culture of Cuba.
Sponsored by the Center for Latin American Studies.
Part I: The Politics of U.S.-Cuban Exchanges
Wayne Smith, Center for International Policy and Louis Pérez, University of North Carolina-Chapel Hill
Part II: Roundtable Discussion on U.S.-Cuban Academic Exchange
Introduction: Alan Kolata, University of Chicago
Discussants: Stephan Palmie, University of Chicago; Agnes Lugo-Ortiz, University of Chicago; Shannon Dawdy, University of Chicago; Laurie Frederik, University of Chicago; Paul Ryer, University of Chicago.
more information: