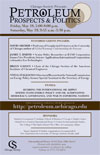 "Petroleum: Prospects and Politics"
May 18 & 19, 2007
The University of Chicago hosted a symposium on oil for students, faculty, the general public, and the press in May 2007. Topics addressed included:
Global petroleum and energy markets
Alternative energy sources
International diplomacy and natural resources
United States domestic energy policy
The science and engineering of oil production
Democracy, governance, and war in oil exporting countries
Transcripts for all sessions are available on the conference website.
Sponsored by the Chicago Society. Co-sponsored by the Student Government of the University of Chicago, The Graduate School of Business at the University of Chicago, The George J. Stigler Center for the Study of the Economy and the State, The Global Voices Fund at International House, The Norman Wait Harris Fund at the Center for International Studies, The College of the University of Chicago, The Office of Community Affairs at the University of Chicago, and The Irving B. Harris Graduate School of Public Policy Studies.