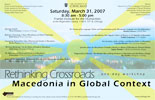 "Baltimore Drowning: A Slavic Microhistory of Global Proportions"
March 31, 2007
Keith Brown, Director of Politics, Culture, & Identity; Associate Professor, Watson Institute for International Studies, Brown University
This talk was the keynote address of "Rethinking Crossroads: Macedonia in Global Context." The conference assembled both young and established scholars whose social-scientifically and humanistically informed work speaks to the contemporary realities of the Republic of Macedonia as they continue to be reshaped by actors and processes from both within and without.
The metaphor of "crossroads", of course, has long been applied to Macedonia, but too often in a manner that called up problematic dichotomies between East and West, Muslim and Christian worlds, center and periphery, tradition and modernity, etc., which were then used to ground analyses of the region. The aim of this conference was to challenge such understandings precisely by centering Macedonia within the global processes that intersect the country, from the economic and political restructurings indicative of a growing and deepening European Union to the obstacles faced by nation-states worldwide in a environment wrought by local identity politics and supernational political agendas.
Through papers themselves rooted in ethnographic detail, the conference explored how such processes inform everyday practices in Macedonia, which in turn articulate, comment on, and contest the conditions of such political and social experiences.
Sponsored by the University of Chicago Center for East European and Russian/Eurasian Studies, the Franke Institute for the Humanities, the Center for International Studies Norman Wait Harris Fund, Department of Slavic Languages and Literatures, Anthropology of Europe Workshop, Anthropology Students Association, Anthropology Department, and Student Government.