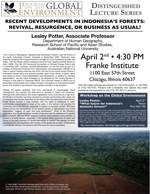 "Recent Developments in Indonesia's Forests: Revival, Resurgence, or Business as Usual?"
April 2, 2009
A talk by Lesley Potter, Associate Professor, Department of Human Geography, Research School of Pacific and Asian Studies, Australian National University.
"From Crisis to Resurgence: Repositioning Indonesian Forestry" was the theme of the fourth Indonesian Forestry Congress in September 2006. Observers were scathing, declaring the congress theme of resurgence to be "hopelessly at odds with reality", with the forestry sector needing to become more "people-centred" (Down To Earth 2006). The 13th UN Framework Convention on Climate Change, held in Bali in December 2007, included "avoided deforestation" for the first time as part of a strategy of Reduced Emissions from Deforestation and Degradation (REDD) to be used in carbon trading schemes post-2012, the end of the current Kyoto Protocol. Indonesia's forests have now assumed greater value if they remain in place, rather than being cut down. Forest rehabilitation and reforestation, in addition to "avoided deforestation", are the major strategies to be adopted by the central Ministry of Forestry in their plans to implement REDD. The universal interest in REDD and its associated controversies have indeed brought a resurgence to Indonesia's forestry sector, but whether it has become more people-centered is a big question.
Despite the global paradigm shift from centralized to decentralized forest management, this process has been slow to develop in "forest rich" Indonesia. Although both deforestation and forest degradation have continued at a high level, the Ministry of Forestry has been reluctant to provide communities with a legal role in managing their forests, especially those falling within the permanent forest estate. Forest tenure remains a huge problem, with the rights of traditional or "adat" communities subordinated to those of the state. In this lecture I will examine the continuing role of the Ministry, especially in relation to domestic forests. Will these forests survive the depredations of the present drivers of deforestation and forest degradation: logging, oil palm and pulp plantations? What of the Ministry's application of a "forest transition" model to Indonesia and its preference for planted monocultures? Will the REDD projects currently being planned bring benefits or problems to local people, especially in the special status provinces of Aceh and Papua or the peat swamps of Central Kalimantan or Jambi? The decision to defer issuing permits until regulations are in place, while apparently prudent, foreshadows a centralized, Ministry-run scheme with little room for local consultation.
Program on the Global Environment Distinguished Lecture