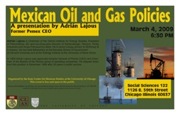 "Mexican Oil and Gas Policies"
March 4, 2009
A presentation by Adrián Lajous, Former Pemex CEO.
Adrián Lajous is Chairman of the Oxford Institute for Energy Studies, President of Petrométrica, SC and non-Executive Director of Schlumberger, Ternium, Trinity Industries and Grupo Petroquímico Beta. He is senior energy advisor to McKinsey & Company. In 2003-04 he was a Senior Fellow at the Kennedy School of Government of Harvard University and a Visiting Fellow in the Kellogg Institute at the University of Notre Dame during the first quarter of 2005. In 1994 Adrián Lajous was appointed Director General of Pemex (CEO) and Chairman of the boards of the Pemex group of operating companies. He stepped down from this position in December 1999 after 29 years in public service.
Adrián Lajous taught at El Colegio de México (1971-76), joined the Ministry of Energy in 1977, where he was appointed Director General for Energy. In 1983 he moved on to Pemex where he held a succession of key executive positions: Executive Coordinator for International Trade, Corporate Director of Planning, Corporate Director for Operations (COO) and Director for Refining and Marketing. He also served on the Board of Repsol-YPF. Mr. Lajous holds degrees in Economics from the National University of Mexico and Cambridge University.
Event organized by the Katz Center for Mexican Studies and co-sponsored by the Center for Latin American Studies.